Business Simulations: A Positive Impact on Both the Organization and the Customer
As I have recently learned, whether you are looking to reinforce training, transform your organization, identify areas for improvement, or simply conduct a team building event, Business Simulations deliver immediate results. A group of employees and myself here at Cask recently had the opportunity to participate in a business simulation demonstration provided by Jan Shilt of GamingWorks, a Netherlands based company. The demonstration included an initial presentation regarding what a business simulation is, why it is valuable, and how that value is delivered.  We also engaged in two simulations during the demonstration: one focused on Cyber Resilience and the other on Program Management.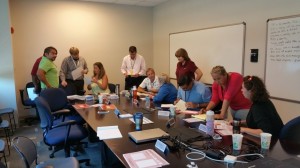 The demonstration created an impact and an enlightening experience for the staff members involved. The two sessions included a group of ten participants working together in a classroom setting. The demonstrator gave each one a role and list of responsibilities, providing some initial guidance for execution of the assigned tasks. With each given scenario, the participants were expected to work as a team to accomplish the desired outcome based on customer requirements.
Throughout the course of 8 hours, we experienced communication breakdowns, process issues, lack of unity of effort toward a common goal, and inadequate resource management. The simulation provided a risk-free environment for us to experience the frustrations that our customers deal with on a recurring basis in their real-world environments. It was also a great tool for self-assessment and discovery. We were able to identify obstacles and solutions to our challenges in a risk-free gaming environment that we could directly associate and apply in the real world.
Based on exposure to this powerful tool, Cask will be adding Business Simulations to our service portfolio as a method for enhancing the manner by which we deliver Return on Investment to our customers and value to their organizations. Feel free to reach out to us to learn more about this powerful business capability enhancement tool and how we can help you leverage it to achieve results faster.